A Better Total Solution
KenMed Supply makes it easier for our hospital, clinic and medical practice clients to have the very best equipment and service they need, while stretching their dollars further.
Our specialists are knowledgable and brand agnostic, and deliver refurbished and used equipment at the best prices available.
Purchase from inventory on hand or submit a purchase request to get started.
Redeployment made simple
Used, retired, or damaged equipment can quickly pile up in storage closets, shell spaces, and hallways of hospitals and surgery centers. This clutter is not only a nuisance, but it can also affect facilities JCAHO rating if a surprise visit occurs.
KenMed Supply makes Cash offers and rapid removes equipment, making disposition of these potential hazards safe and easy.
Equipment is then refurbished and repurposed eliminating landfill waste and pollution.
KenMed is based in Orlando, FL and operates across Florida, Georgia, Alabama, and South Carolina.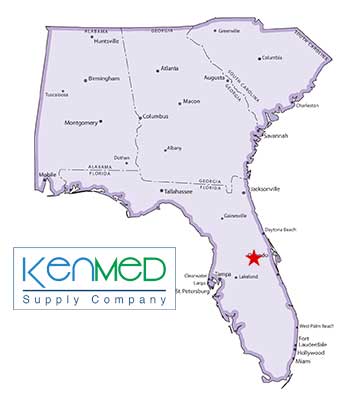 Unanswered Questions?
Working hard to expand our services, inventory, geographic coverage, and industry knowledge, we welcome your feedback and suggestions on how we can serve our clients better.
Please call, email, or fill out this handy form and we'll get back to you quickly.